Smoke Evacuation
In order to perform electrosurgery and at the same time effectively remove the hazardous surgical smoke which, is created during the cutting and coagulating of the tissue, an all-in-one diathermy pencil with fully integrated smoke evacuation capabilities is required. The all-in-one smoke evacuation pencil is the first line of defense against the daily exposure to chemical, carcinogenic, mutagenic viral, and bacterial hazards found in surgical smoke.
CIMPAX offers a complete solution for removal of the hazardous surgical smoke that is created in the operating room. Our products are designed with focus on efficiency, user ergonomics and safety, plus using materials that are eco-friendly.
C-VAC Tornado Smoke evacuation pencil
C-VAC Tornado is an electrosurgical pencil with fully integrated smoke evacuation capabilities offering not only cutting and coagulation of tissue during surgery, but also effective suction and evacuation of the hazardous surgical smoke, which is created when heat is applied to skin/tissue.
The unique triangular design combined with the silicone cover offers the surgeon an ergonomic and safe grip, while a special adaptor ensures the device can be fitted to any smoke evacuation system in the market. Furthermore, eco-friendly materials used in C-VAC Tornado contributes to sustainability by reducing the negative impact in the environment. The C-VAC Tornado was the first smoke evacuation pencil in the world that is 100% free of PVC and phthalates.
Available with stainless steel blade, Teflon or Silicone coated (non-stick) blade and insulated (Teflon or Silicone) blade – all models with or without holster.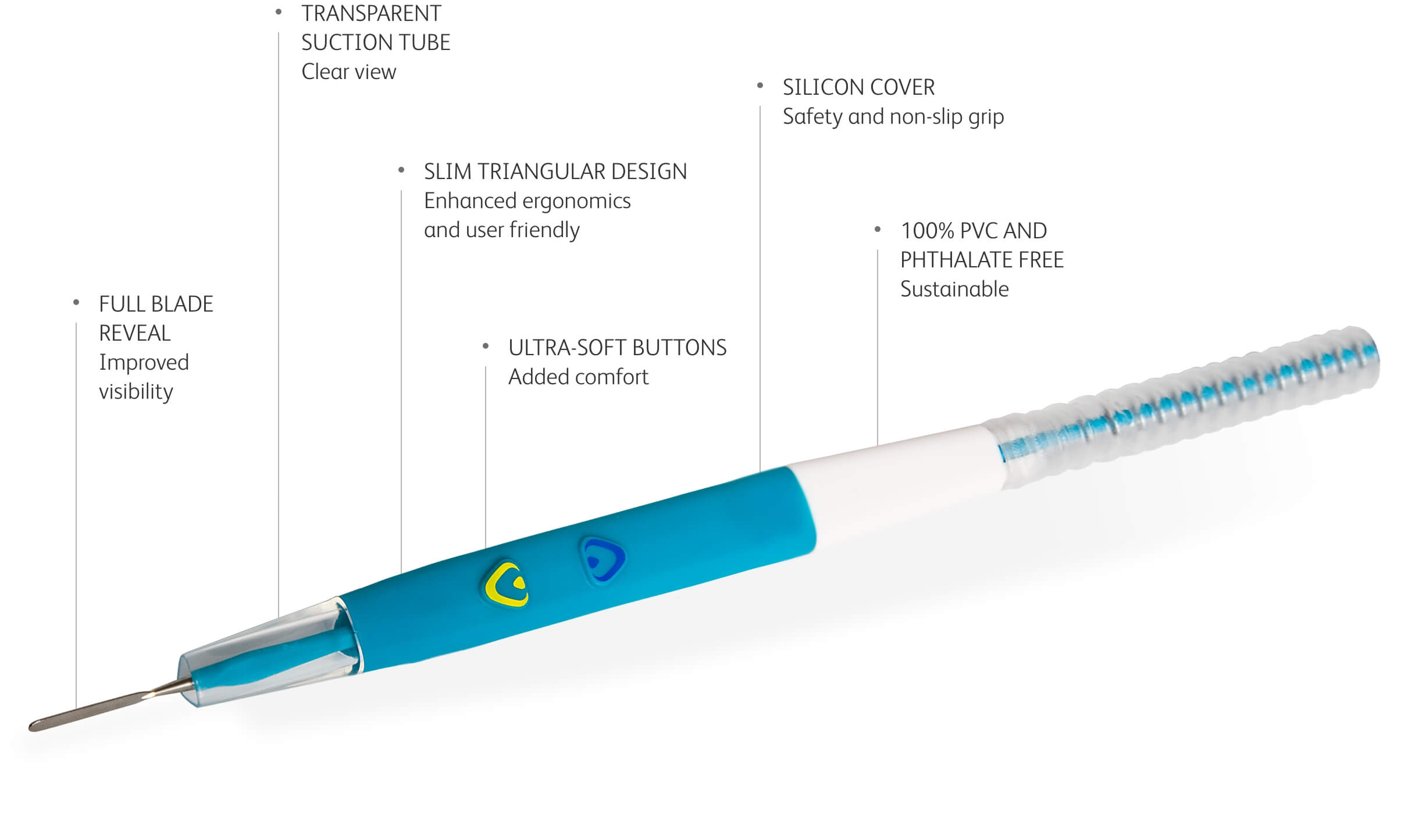 C-PURE Smoke Evacuation System
The C-PURE 750 is a smoke evacuation system designed to effectively pull surgical smoke from the surgical site via smoke evacuation pencil into a filter, thus capturing particles that otherwise would be dispersed into the air and inhaled by the OR staff and patient.
The C-PURE 750 is a compact, lightweight, and ultra-quiet surgical smoke evacuation system, which provides high performance and effective management of surgical smoke.
The 3-port filter provides a variety of options when choosing an accessory or tube set to meet the hospital or clinical need. Additionally, the special design of the 35 hour filter includes a 4 stage filtration in one housing; integrated pre-filter, ULPA filtration, activated carbon, and a post filter. All filters are equipped with RFID providing constant communication tracking and control between the filter and the smoke evacuation system.
C-PURE 750 sensor can be used to remotely turn C-PURE Smoke Evacuation System on and off in conjunction with ESU activation prolonging filter life and reducing noise. Additionally, multiple C-VAC Tornado smoke evacuation pencils can be accommodated with one C-PURE sensor device providing savings and convenience to the facility.

Smoke evacuation accessories

Tip Extender: All in one electrode and suction tip extenders with unlimited extension possibilities